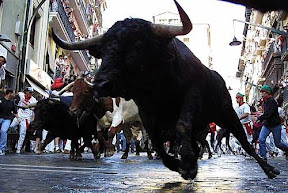 Ruth-
I am sitting just outside the Cathedral in Pamplona on the second last day of the San Fermin festival. During the festival the city bursts with about 1 million tourists and dare devils here for the running of the bulls.
I rode into Pamplona with a great guy from New Zealand. It was nice to have a companion for the ride into the city. We joined the Camino about 9km out and had a beautiful bike path the whole way in.
As we entered the city walls the smell of beer and urine hit us and we chose our route carefully through the broken glass. An American we met at dinner last night, who had visited Pamplona two days earlier, referred to the Vancouver riots as child's play by comparison.
The streets are terribly narrow for such a crazy event, and the barricades lining the route don't look like they would provide adequate protection for the spectators. The six bulls and six steers race through the kilometer route at speeds up to 24km/h!!!
Sitting in a square just a block off the main hub, is safe enough and great for people watching. I just talked to some Brits who ran with the bulls an hour earlier, and still looked very excited. They claimed it was safe as long as you stayed near the front… Right! The papers report however that between 200 and 300 people are injured each year. This year they have had 165 emergency services workers and 16 ambulances spread out over the route.Today, I guess was a relatively good day with only 7 people injured. A good day; unless your one of the bulls.
Later
Casa Carpintero Astráin, Spain
We have settled into a 400 year old B&B on the square of this tiny town. We are slightly off the Camino which might account for our very warm welcome here. I think some of our hosts, like the Señora from Larrasona, are a wee bit pilgrim weary.
Gordon – This evening we learned what became of the six bulls involved in this morning's run. We arrived at the bar for dinner just as today's bull fights were beginning, live on national television. I don't believe they carry this on TSN. While undoubtedly cruel, the picador and bandilleros cause real injury to the bulls and copious amounts of blood flow, we were riveted to the screen for two hours. The outcome for the bull is certain, but there is also the possibility of real injury or death for the human participants. In fact, one matador was thrown and trampled, but he returned to fight his second bull. It is sad to watch an animal go from magnificent athleticism to death in 10 minutes, but it was a compelling watch. And for sensitive, new age guys, please note that the six steers that ran with the bulls this morning are still alive and well and looking forward to tomorrow.
– Posted using BlogPress from my iPhone