We have heard many stories about pilgrims having problem finding accommodation on the Camino. We are now in the last two-hundred kilometers( the minimum distance required for cyclists to receive the Compostela). The number of pilgrims has swelled considerably and in addition we are at a very popular town, O Cebreiro . After a climb of over 800 meters, many pilgrims have arrived here to find that every bed in town is already occupied.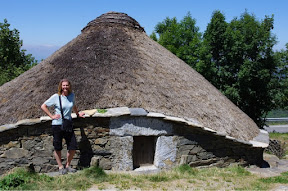 We were fortunate to have reserved a lovely room in advance, but our friends Gilde and Maja are jealously guarding a small sheltered ledge attached to the church. We are in a col in the mountains and the wind is bowing. We shared a picnic together on their ledge before I took Grandma (Gilde's violin), back to share our room. She's is too old and frail for open air camping.
O Cebreiro is the Baniff of the Camino. It is popular not only with pilgrims, but also with Spanish tourists. It is stunning and has the oldest fully enact church on the Camino, dating back to the 9th century. The holy grail itself is believed to have been hidden here during the middle ages. With all these things to offer it seems pilgrim weary and less welcoming. In all the other towns locals and even the Mayor will find places that pilgrims can bed down for the night. Here, this was not the case even for a family with two tired children who have walked from Belguim ( not all today).
It appears that at least twenty people are without shelter tonight. I tried to ask our host if it was possible to share our space but she was adamant that this was not permissible. I even approached the monks on behalf of the Dutch family and they ignored me and walked away ( I hope it was just my poor Spanish).
Postscript:
Bedbugs: nature's class leveller.
At one thirty Gord woke me up with the news that our bed was crawling. Argg! We spent much of our night washing our clothes in very hot water and then had a fitful cold sleep out in the living-room. Grandma slept though it all.